Okay, I don't have a fancy camera, nor do I live in a fancy location so I have had to become creative if I wished to stand out a little from everyone else. So here is my long-awaited post about how to edit and what apps I use
1. The iPhone editing app
Yes, you heard me, for most of my pictures I tend to edit first with the iPhone inbuilt editing tool because it's pretty nifty, they have pretty good filters and other adjustment settings. In my opinion, they are just as good as the mobile Adobe Photoshop express. Especially for my plain pictures where you don't see any overt editing. It's also quick and simple and I can edit as soon as I have taken the photo
Before
After
My favourite filter that the iPhone provides is the Dramatic filter because I like the contrast between colours
2. HUJI app
The app is such lifesaver it can make any crappy picture look good and I use it in conjunction with my camera app. So when I take a picture of something with an iPhone camera I also open HUJI and take a picture of the same thing. It literally is my favourite thing at the moment. Who doesn't love a classic HUJI edit?
3. Retro Cam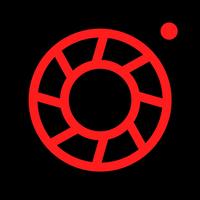 Of course, there are times when you forget to use Huji cam and you think in hindsight the picture would benefit from the 1998 glow, fortunately, there is an app for adding that HUJI magic to your pictures. There are so many light effects and dust effects that you can easily add on to your photos
After
Before
3. Phonto
I use this app to add text to my pictures, you really have to play around with it and see what's right for you, there are no formulas that you can follow. It's really just how you express yourself
4. Glitche
I use it to add the- well, the glitch effect in my photos although I don't use it a lot on my feed, it's still something I enjoy using. I am currently playing around with it at the moment and seeing how I can incorporate it into my feed.
5. PicsArt
So I re-discovered PicsArt, particularly the sticker features, you can really make your pictures your own and have fun and let loose. I can't tell you what and what not to do but I do really enjoy playing around with it. My advice? Express yourself, my style can be very different to yours
Another honourable mention is Unfold, which I love using both for my stories and my feed! I am sure everyone knows about the app though
I would like to mention that all these pictures were taken with an iPhone 7 Plus either with portrait mode or normal, when using both I like to turn on the HDR, I don't know how or why but it improves the quality of pictures for me.
My last message is to just have fun! Don't take it all too serious, play around with your apps. there are so many things out there!
That's all for now
Emmy xx